Dining
Experience the flavors of crisp salads, rich seafood, tender steaks, and highly-rated wines in an exquisite setting. This Orlando steakhouse and seafood restaurant is located in the Golf Clubhouse and is open nightly for dinner. Reservations are recommended.
Restaurant Hours
Dinner: 5:30pm – 10:00pm
For reservations, call (407) 996-FOOD (3663) | click here for reservations.
Restaurant Info
Seating capacity 120, private dining 24 people max
Orlando Group Dining, Private Dining and Buyouts
Impress your guests by reserving the MacIvey Room at A Land Remembered for a private dining experience. The secluded room is perfect for business dinners, rehearsal dinners, anniversary celebrations or any intimate gathering. The MacIvey Room offers a warm, social setting with dark and rich woods, brass fixtures and artwork by Native Americans. Orlando's premier private dining venue comfortably seats up to 24 guests.
For inquiries and further information, please contact our Outlet Sales & Catering Manager, Kristi Marina, at 407.996.9770 or KMarina@rosenshinglecreek.com. View our Private Party Dining Packet
---
Chefs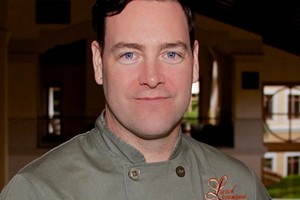 Chef Brett Beavers
Chef Brett Beavers discovered his love for cooking at the age of 15 in his hometown in northern Michigan. Later he cultivated that passion in a culinary school in Flint, Michigan. Life lead him down south to Orlando, Florida, where he joined Walt Disney World® Resort. For the next seven years, he evolved his culinary career at Disney's signature restaurant, Artist Point. In 2008, Chef Brett accepted a position with Rosen Hotels & Resorts managing the restaurants at the Rosen Centre Hotel. When he transferred to Rosen Shingle Creek in 2010, Chef Brett was given the opportunity to manage both of the resort's fine-dining restaurants, Cala Bella and A Land Remembered. He chose the head chef position for A Land Remembered. Since then, Chef Brett has focused on creating contemporary dishes from classic Florida cuisine that utilize organic products as well as locally-sourced ingredients from neighborhood farms.
Theresa Connors, CEC
Chef Theresa Connors' passion for the culinary arts started in 1982 in Winter Park, Florida, at the landmark restaurant Park Plaza Gardens. "I had no previous experience, so they let me wash crates of spinach and vegetables." She took her role seriously and learned as much as possible from this restaurant. From there her opportunities grew abundantly in the culinary field in the Orlando area. Along her thirty year career Theresa has held many titles including executive chef at the Buena Vista Palace and "Restaurant Chef of Arthur's 27," where she was honored to be named one of Central Florida's "Top Twenty Chefs." Chef Theresa joined the Rosen family in 2015 as chef de cuisine. She assists in training and teaching the culinary staff the fine art of executing exceptional food. Chef Theresa earned her certified executive chef certification through the American Culinary Federation. Her current food philosophy is to apply yesterday's principles, today's technology, and a good bit of regional fare.